Figh-Fidelity CFD Solver


CRUNCH CFD is a multi-physics simulation tool equipped with unstructured mesh fluid solvers.
CRUNCH CFD is capable of handling phenomena such as turbulent flows, cavitation, combustion, low temperature phenomena and more.
It can also handle phenomena, usually difficult to manage using typical fluid analysis software, such as Hypersonic flow analysis, specific chemical reaction models, and phase changes.



* This product is only available for sales in Japan and Korea.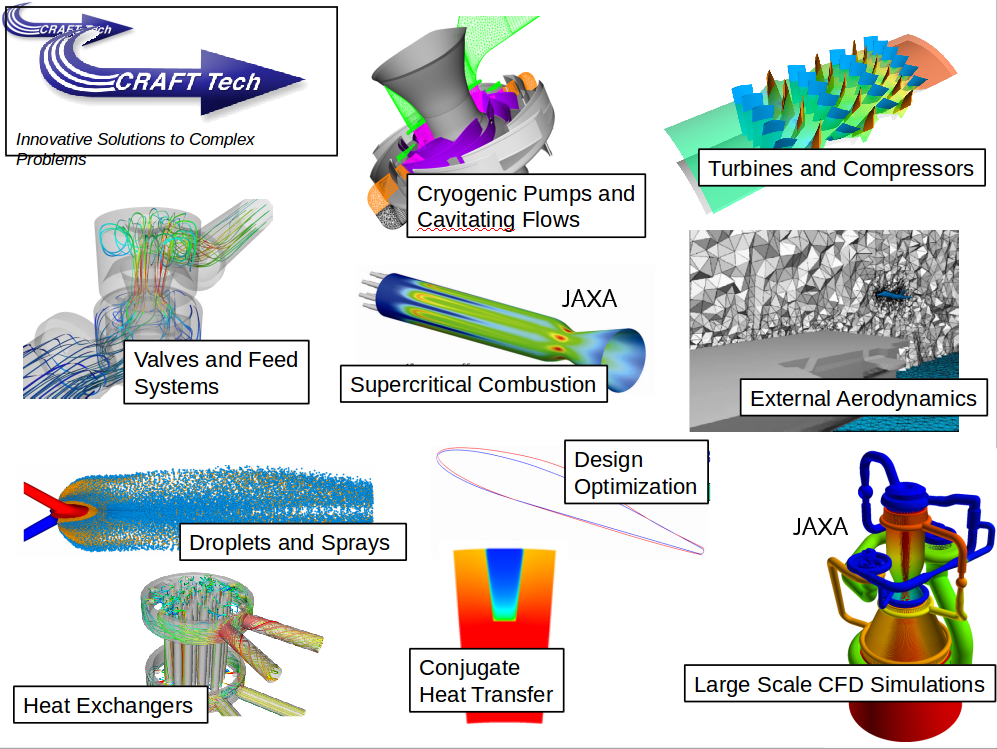 Characteristics
Multi-Physics Simulation
INCOMPRESSIBLE
Module for Incompressible/"weakly compressible" multiphase flow analysis.
Main applications: Low temperature fluid modelling, Cavitation model that can take into account heat and evaporative cooling effects on fluids, 6-DOF models, rotating turbo machinery, and more…


COMPRESSIBLE
Compressible fluid Solver that supports all Mach numbers.
It is an Equation of State model that can model flows similar to supercritical flows as well as adiabatic compression of fluids.
Chemistry Manager that supports CHEMKIN/Cantera format.
This includes the stiff chemical solver, ISAT, as well as the laminar flamelet model.


THERMAL
3D heat conduction solver

Pre and Post-Processing Utilities
CRUNCH CFD® comes with the PRECRUNCH and POSTCRUNCH. They support multiple mesh file formats, and can also export to multiple solution formats as well.
User-Friendly GUI
Using the CRUNCH Graphical User Interface, the solver's setup can be done efficiently. Windows, Linux, and Mac OS versions are available. (A Linux platform is required for computation)
Computing Platforms
Computation is available on Linux systems with MPICH2, OpenMP Libraries.
* This product is only available for sales in Japan and Korea.